If you are a long term traveler you have heard the 4 infamous words:
"You are so lucky"
Most people think that luck is the main reason people are able to travel the world. And if it isn't a stroke of luck, then you must have recently won the lottery or received an inheritance. That a life of adventure and awe is only achieved through the off-chance that you are one of the lucky few.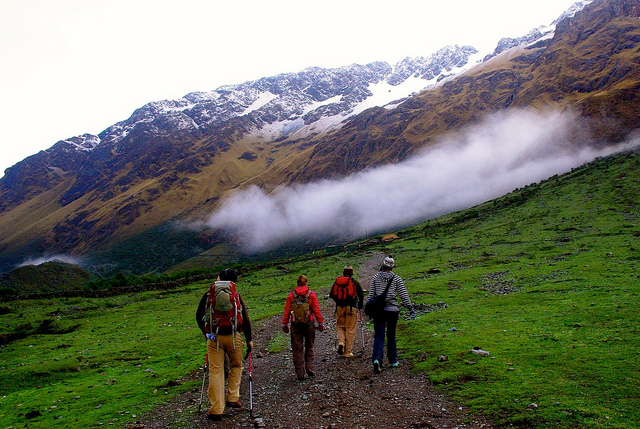 I say this with sarcasm, because leaving Chicago in 2011 was not luck, but the culmination and execution of the biggest project we've ever managed. A risk that we took in hopes of a grand adventure. I understand that not everyone is willing to take this risk, but it isn't luck that gets you here. Maybe stupidity 🙂 But not luck.
Josh and I didn't come into a huge bank account of cash, or find a couple thousand dollars laying on the street. We planned and saved. We skipped out on my beloved skinny vanilla lattes and began making coffee at home. We skipped out on new restaurants and fancy dates between the two of us and promised to only spend money eating out if it was with our friends. We had a glass (or two) or wine before we left for the bars and then limited ourselves to the expensive $14 Chicago drinks.
We weren't lucky to lose our great benefits package with three dental cleanings a year, in exchange for a $25,000 high deductible insurance plan and lots of prayers that we don't get deathly sick.
We weren't lucky when our flights got delayed or canceled or during certain meals where Josh ended up with another case of food poisoning.
We don't have a home base. We left our comfy bed at home and have been sleeping in a new bed on a weekly basis. There's a lot of logistics that go into moving so often, especially if you are as picky as I am to where you stay!
We traded warm showers for cold ones, left our closets at home for only a few outfits and missed big events in our friends' and families' lives while we were on the road traveling (this was the worst). These were all conscious decisions that we made, not chance happenings.
And luck hasn't kept us on the road, stubbornness has. Determination has made us sit at our computers for hours, brainstorming for days with pure joy fueling it all. We have fallen in love with our location independent life and are fighting to keep it going.
It's not luck, I would call it pure craziness.
We aren't lucky, we are blessed. Blessed to have found support along the way and inspiration that this type of lifestyle is possible. We are grateful that both of us share the same goals and are willing to save the money and risk the uncomfortable to have lived the past 1 and 1/2 years as digital nomads. And most importantly we are happy to not accept the excuse that you have to be lucky to travel the world.
 What have you accomplished once you put your mind to it?