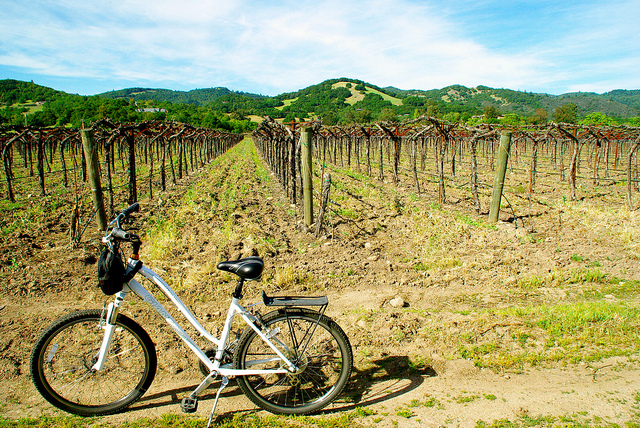 Last week we wrote about spoiling yourself in Sonoma and this week we are talking about a sweaty bike trip through the vineyards?
Absolutely!
For whatever reason Josh and I always end up on two wheels. The experience of flying by these vineyards in an air-conditioned car and pedaling a bike with the wind, smells and sights surrounding you are completely different. I don't suggest taking your bike all over Sonoma unless you are a professional cyclist, let's just say most of the drivers aren't used to sharing the road with two wheels. But save at least one afternoon to rent bikes and explore the unbelievably scenic paths through the back roads of Sonoma.
Doug and Penny McKesson of Goodtime Touring keep bikes stored at the Cottage Inn and Spa, where we stayed in Sonoma, so of course Josh and I couldn't turn down the temptation to take them for a ride! Luckily the bikes come with a map that takes you on an 8 mile trip on back roads (not busy) past 6 vineyards where you can stop and taste.
I know you're thinking…
Weren't you sweating by the time you arrived at the vineyard?
Yes and No. It's not an intense bike ride, it's great for beginners! We definitely showed up a bit more out of breath than the other guests, but Sonoma wine tasting is so laid back that we never felt underdressed or too disheveled to enjoy our wine tasting. Most of the other guests we met were taking a bike tour, or had already rented bikes, so it wasn't abnormal.
You don't need to worry about tasting and driving and you can stop whenever you want to take all the pictures you please (which is my favorite part)!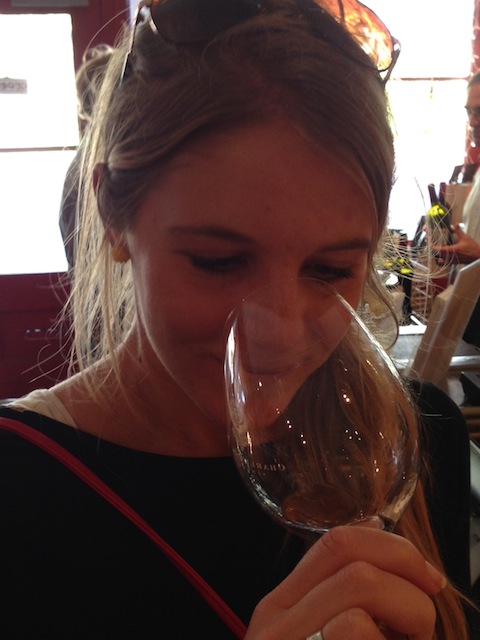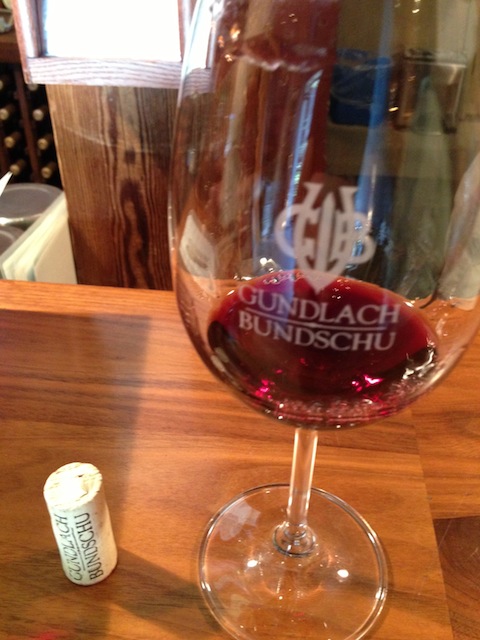 Tips on Biking and Wine Tasting in Sonoma
Bring a small backpack filled with water and snacks. With the wine and exercise you will want to make sure to continue to fuel your body between each winery. We brought a delicious baguette and cheese with plenty of water.
Lock your bike. This is mostly for piece of mind. I'm sure those with hired limo drivers preferred their ride more than ours, but just to make sure always lock your bike before you go into wineries.
Stay off Highway 12. This is the main highway connecting most of the wineries and the cars speed by paying little attention to you on the side of the road. There are stretches where there is no sidewalk with little space for you to fit on the road. To stay safe find alternate routes.
Check the weather. You don't want to get stuck in the rain and you don't want to find yourself on a bike during the hottest day of the week.
Drive in the morning, bike in the afternoon. We spent the first few hours, 11 – 1, driving to some of the further away wineries and returned home after lunch to jump on the bikes for the 8 mile ride from 1 – 5. It's a long day but definitely worth it!
Would you bike your way through wine country?