Remember last year when we wrote about how we didn't fall in love with Vietnam? It's true, it's not high on our list to return to in the near future but that doesn't mean we didnt have great memories from our time there! Looking back almost a year later here are some of our favorite memories of traveling in Vietnam.
Pho. The most delicious soup you will ever eat, especially when enhanced with the right mixture of lime, chilis, Thai basil and bean sprouts.
Saigon. Love it or hate it, it's a big chaotic city, and we loved it. We walked all over the city enjoying the parks, eating the yummy food and drinking Vietnamese coffee.
Bahn Mi. A Vietnamese sandwich that is a popular street food. Ha lua, a thin-sliced Bologna-like pork roll, and thit nguoi, a cured pork (similar to pork belly) are the most common of the meat options. Ga (chicken) and trung chien (fried egg) are also common.
Fresh Fruit Smoothies. This particular smoothie came from our favorite smoothie stand. A strawberry/coconut smoothie…It was amazing. In every Vietnamese city, we started each morning with delicious fresh fruit smoothies…but Saigon won for the tastiest and cheapest.
Crazy House in Dalat. Dalat, Vietnam is an interesting city – but this house makes it that much more strange. The house was built by a Vietnamese woman architect Đặng Việt Nga. It was designed to look like a 5 story tall banyan tree with 10 rooms each with their own animal theme.
It's random, and weird, but it's also fun to explore through the different rooms and unique design.
The Overnight Buses. We traveled by night in Vietnam on overnight busses. If you are in Vietnam and are looking to go via bus make sure you go with Sinh Tourist, they have the best busses and customer service we found on SE Asia busses.
Be careful, go directly to the Sinh Tourist agents, there are numerous fake tour companies with the same name that will sell you tickets claiming to be the real Sinh Tourist, and they aren't. Use the website and verify the location to be sure.
The rolling hills and green scenery are beautiful in Vietnam. During the few bus trips during the day I'd spend the whole time staring out the window.
The Beaches. This was one of our favorite parts of Vietnam – the beaches are amazing. Traveling up the coast, you will be taken back by the breathtaking views and beautiful beach after beautiful beach you visit.
Tailored Clothes. Hoi An is known for their cheap tailored clothes. Josh and I had fun designing and getting measured for our new clothes. Josh got 2 new button down business shirts and I got the dress below.
Sugar Cane Juice. I put off trying this for awhile, and once I tasted it I couldn't stop. You watch the sugar cane being squeezed in front of you and topped with a quick squeeze of lime!
Really Cheap Beer. 15 cents for a glass, you cant beat that! When you visit Vietnam sit down at one of the many bars offering 7 beers for a dollar. We had fun with this deal!
Sunrises in Hoi An. One of the best decisions we made in Vietnam was waking up at 4:30 AM and riding our bikes to the beach. The sunrise was unreal, one of the best and most colorful we have ever seen. Expecting to be alone, we were shocked to see what seemed like the entire city of Hoi An enjoying the beach at sunrise, exercising, fishing, and playing soccer.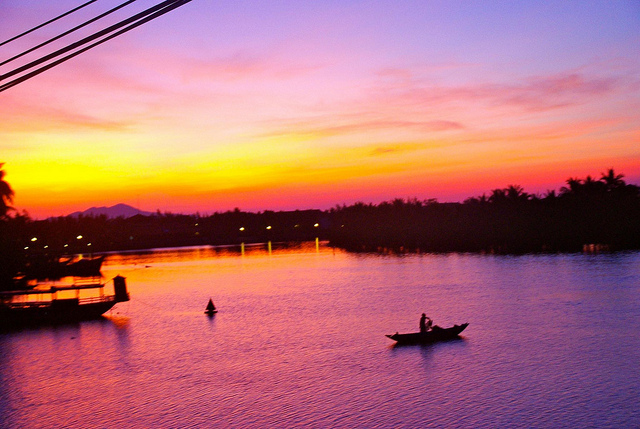 Hoi An. The city is a UNESCO Heritage site and for good reason. Character is around every turn with bright colors and traditional markets.
Fresh Spring Rolls. My main sustenance for the month in Vietnam was fresh spring rolls. They were usually filled with pork or shrimp, basil, cilantro, cucumber and fresh garlic with a hoisin peanut sauce to dip them in. You can find them all over Vietnam, I suggest trying them when you visit!
Did We Mention the Beaches? Amazing
Ha Long Bay. Another controversial wonder of the world. Floating through the huge limestone cliffs you can easily see how tourism has overrun the area, but you are also lost in the mystique and beauty the national park offers.
 These were 15 of our highlights of Vietnam – what were yours?