Hawaii is one of our favorite destinations. The culture, food…and the weather is incredible.
When we visit, which is usually somewhere between 2 – 4 weeks (you need this much time to get to at least 3 different islands!) we only bring a carry on!
You ask how we fit everything we need for more than a week in paradise in a carry-on bag? We ask what more do you need than a bathing suit?
As I mentioned above, really all you need is a bathing suit, coverup and flip flops. But lets splurge a little and bring some small extras to spoil ourselves.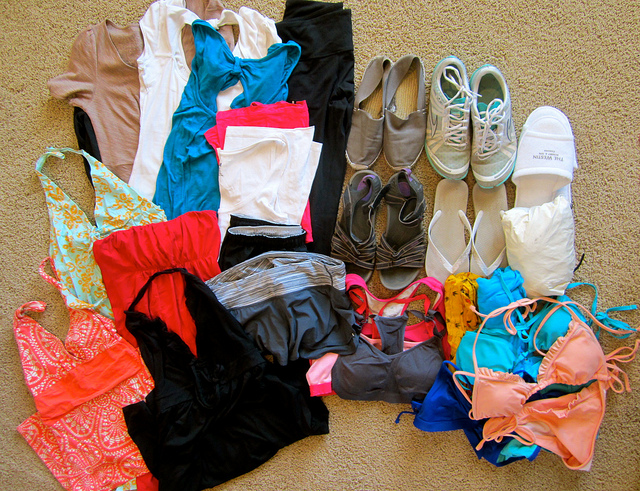 Caroline's Carry On
4 sundresses
2 t-shirts
4 bathing Suits 🙂
2 exercise outfits
1 pair of running crops
1 sweater for evenings
2 sports bras
Tennis shoes
Flip Flops
Teva Sandals
Flats
Rain jacket
Underwear/Socks
Josh's Carry On
3 t-shirts
2 pairs of shorts
1 bathing suit
2 long sleeve shirts (nice enough to wear to fancier dinners)
1 lightweight henley
1 sweatshirt
2 exercise shirts
1 pair running shorts
5 pairs underwear
Socks
Tennis shoes
Flip Flops
Espadrilles
Hotel slippers
Rain jacket
Toiletries
I've almost completely stopped traveling with toiletries, unless they are special ones I know I can't get or I am going to a new country and don't know what to expect. Especially if you are traveling for more than 2 weeks it's cheaper to simply stop by the store once you arrive and pick up shampoo, conditioner etc.
Toothbrush
Travel size toothpaste
Make up for women (…or guys I guess if that's your thing)
Hair brush/comb
Contact lens supplies (Josh uses Clear Care which has been referred to as the "golden handcuffs" of lens care, it's very difficult to find internationally)
Any specific medication you may need
*Most everything else you can purchase when you get there and use it for the 2+ weeks you are visiting.
What We Actually Wore
Mainly we wore a bathing suit, flip flops and a cover up (or t-shirt) every day.
We usually do a load of laundry weekly, but like I said the main thing we are wearing is our bathing suits so there isn't a whole lot of laundry to do. At night we will put on our nicer clothes to go to dinner and wear those for the evening, but Hawaii is so casual unless you are going to a very upscale dinner you can usually get away with dressy/casual look. We almost always go on a few longer hikes in Hawaii which our favorite way to see the best scenery and is where our exercise clothes and tennis shoes come in handy.
If you aren't in your bathing suit, women you can wear your sundresses every day and men you will usually just throw on your shorts with a t-shirt, flip flops are almost always acceptable.
Life is easy in Hawaii, don't overcomplicate it with a bunch of luggage!
Do you travel with just a carry-on? How do you pack? Let us know in the comments!