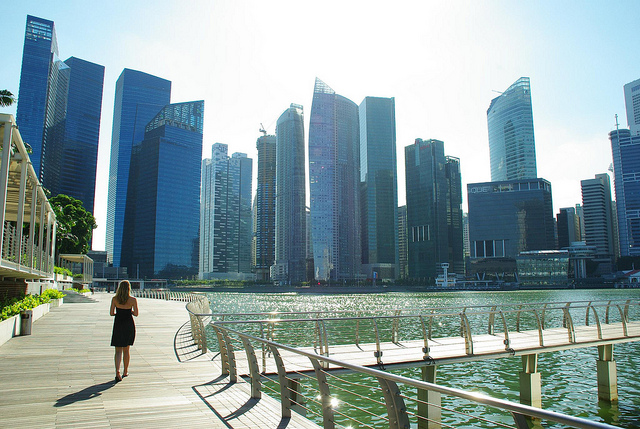 Accommodation: We stayed with a good friend of ours for 2 weeks with his sister and her husband in their 2 bedroom apartment. He was kind enough to give us his room while he slept on the couch. The kindness showed by our friends was unbelievable. They treated us like family and went out of their way to ensure we were comfortable. They let us use their kitchen which came into great use every morning for our coffee and oatmeal as well as a hot shower to clean up after a long day of hiking and exploring.
Cost per day: Our original budget was half what we budgeted for Hong Kong, $40 since we weren't paying for a place to stay. We didn't factor in to the fact that when you visit people you want to go out more then if it is just the two of you. Also, as much as we tried our friends footed the bill multiple times while out at dinner which in the end helped us spend a lot less than expected when the 2 weeks were up. We ended up staying within our budget for Singapore. This is much less than most people will spend. It is an expensive city, we were lucky to have great hosts and hopefully will return their kindness soon.
Exchange rate: $1 USD = $1.24 SGD (as of January 2012)
Best Meal: We got lucky, We had delicous home-cooked Indian meals at night, that no restaurant could compete with. We loved the different curries that we tried.
If I had to choose a restaurant it would be Barrack's Cafe at Dempsey House. Josh tried an amazing 7 layer pancake, need I say more?
Bathroom Situation: Singapore is very comfortable for a Western traveler. There were no surprises on bathroom situations. Bathrooms were everywhere and rather normal other than having to turn on the hot water heater 10 minutes prior to showering to let it warm up.
Funniest Memory: You can read the full story here. Shortened version is when in doubt…do whatever the guards at the embassy tells you to do…no matter how strange you think it is at the time!
Biggest Issue: Finding cheap food, but we had some really great meals at food courts.
Transportation: Since Singapore is spread out we couldn't simply walk down the street to get coffee. We were staying in a condo in a residential area. To get to the closest shopping area you would need to take a short bus trip ($0.93 SGD), every day we spent on average $8 taking buses and trains around the city to get where we were going. Luckily the train and bus system is not only cheap but super easy to use!
Internet: We had wi-fi!! We had great, fast wi-fi that made us so happy. We knocked out a lot of our to-do's that needed fast internet such as taxes, downloading things, finishing our backups and uploading photos. The Internet spoiled us, was wonderful to have and we already miss it in Bali!
East Coast Park
Sentosa Island
Marina Bay Sands Resort
Little India
Holland Village
Orchard Road
Clarke Quay
Overall: We realized how much we didn't know about Singapore before arriving. It was surprising how comfortable we could be there, and didn't know there was such a developed city in Southeast Asia. It was expensive but small so we would recommend staying for only 2-3 days if you are on a budget. There is a large expat community here and easy access to the surrounding countries.