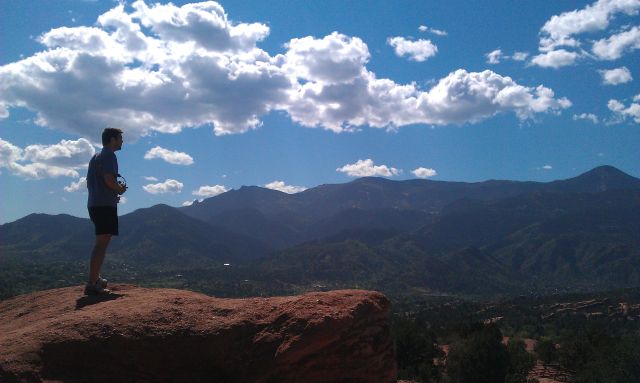 We collect books and read about fictional heroines and biographies of the great men and women of the past. We watch endless hours of TV filled with stories on the ups and downs of other people's lives. While we are living vicariously through the characters on the page or screen, we are complaining daily about our job, our love life, or our boredom. If we are bored or unsatisfied in our own story it is because we have written our life that way and accept it daily.
A few years ago, I read the wonderful book, A Million Miles in a Thousand Years: How I Learned to Live a Better Story
 by Donald Miller. The book chronicles the author working with a team of screenwriters to develop a movie based on his memoir, Blue Like Jazz
. As they edited the protagonist (the author himself) to make the story more interesting, he realizes how editing the story is like editing his past, and accepts that he had done a poor job as the "editor" of his own life. He vows to start living a life that is a good story—one that people would want to read—and outlines the essential elements of a story and how each of those is also necessary for an interesting and fulfilling life.
Not everyone is willing to live a spectacular life. You can quickly get comfortable in routine and hide behind the safety of what you create for yourself. This is the most dangerous pitfall in writing a better story. We let life happen to us. We make decisions because we are supposed to and underneath it we don't believe that we have the power to make life-altering deviations from the status quo.
We are going to spend the next month writing and editing our own lives.
Every Monday a new assignment will be posted here on Traveling 9 to 5. Take the time to think through the question and write your answer. In a few words or a full journal page, get your thoughts on paper. You are welcome to share your thoughts and questions in the comments, but feel free to keep them private. Each assignment will work off of the previous one, until at the end of the 5 weeks we have begun our story and it is up to you to continue the next chapter.
To consider before next week:
What story stands out to you and what makes a great character?
Are you living intentionally to reach your life goal?
What fear is holding you back from living your story?
How do you take action, the hardest step of the process?
Write your story so that you want your children and grandchildren to hear it and pass it along to future generations. Fight to leave a positive mark on the world. You are in control. It is your life and if you don't write it, someone else will. And who knows what direction that will take you in.
All posts in this series:
New Series: What Story Will You Tell the World?