We visited quite a few beaches this year! A few of them stuck in our hearts, not necessarily for being a great beach but for having a unique or fun character that has made us remember them fondly. Here is a countdown of the top 12 best beaches from our trip.
12. Cancun, Mexico
This was my favorite sitting beach. There are beaches that are good for walking, with miles of sand, and then there are good sitting beaches. A sitting beach is good for lounging in a chair, marveling at the beautiful blue water with a cocktail in hand. Cancun's beach is resort…after resort…after resort, so I wouldn't call it a beautiful beach, but it has fabulously blue water to enjoy while seated with a margarita!
11. Montañita, Ecuador
Montañita is a true beach town made for hippies. We spent a week in the town and had 6 days of rain with 1 day of sun. The 1 day of sun was worth the 6 days of hammock swaying. The beach came alive with fresh ceviche carts, surfing lessons everywhere and a vast beach to enjoy. I would argue that the beach town vibe and local eats are what makes this beach a destination for anyone driving the Ruta del Sol.
10. Reñaca, Chile
Reñaca is a small beach town north of Viña Del Mar. We were able to walk to Viña in 45 – 60 minutes along the coast, but we could enjoy a more laid-back beach holiday in the town of Reñaca.
9. Barcelona, Spain
Despite the fact that this is a man-made beach, we loved spending sunny days at the beach as an escape from the city. It helps that Barcelona is one of my all-time favorite cities ever.
8. Wilderness, South Africa
We were in South Africa during their winter, which meant we were the only ones on the beach. We were dressed in long sleeves and scarves. It was cold but so beautiful! Wilderness is small, but a must if you are driving the Garden Route.
7. Nha Trang, Vietnam
After traveling for 2 months through Thailand, Laos and Cambodia, Nha Trang was a breath of fresh salty sea air when we finally arrived. We were actually told to skip Nha Trang due to it being "too touristy", but on our overland bus north we stopped here for 2 days and were glad to celebrate 2 days of sunshine on the coast!
6. Hoi An, Vietnam
We got the great idea of renting bikes and leaving our hotel at 4:30 am to make it to the beach by sunrise. We were more than surprised to find the beach fully packed and active at 5:00 am with locals playing soccer, swimming, fishing and exercising. The sunrise that morning will be forever stuck in my memory and remains one of my favorite beaches because of it!
5. Phra Nang, Railay, Thailand
The steep limestone cliffs along with the colorful longtail boats make Phra Nang one of the most picturesque beaches in Thailand. It may not be the most pristine, or remote, but it definitely is what I picture when thinking of a perfect Thai beach.
4. Gili Air, Indonesia
There isn't a whole lotta beach on the island, but we still included this on our list of favorites because we love it that much. You can walk around the entire island in about an hour, and on the north end you can sit without seeing more than a handful of people. The beach is mainly made of dead coral (remants from a history of dynamite fishing), so don't expect powder white sand, and it's quite small, but the absolute stunning beauty of the water, the sky, the sea life and the island itself has been forever etched in our memory.
3. Ipanema, Rio de Janiero, Brazil
This is by far one of the world's best beaches. You can't argue with red and yellow umbrellas covering the beach, coconuts being sold by the hundreds and everyone on the beach up and about engaging in some type of sport or activity. Brazilians are some of the friendliest, and they know how to create a beach culture that is addicting. Women in thongs sporting all body shapes proudly walk the beach and the men are always seen kicking around a soccerball on the volleyball courts. I can't express enough how the beaches of Rio captivated me and inspired me this past year!
2. Bachas Beach, Santa Cruz, Galapagos Islands
The Galapagos Islands are the king of pristine beaches. The National Park does an incredible job of protecting the land, animals and plant life here. You share the beaches with families of sea lions who want nothing more than to come and meet you. It is unbelievable how close you can get to the animals on the island. Make sure to bring your snorkel because not only are the sea lions fun to see but they are incredibly playful in the water. It was one of the highlights of our cruise with Ecoventura and throughout our time in South America.
1. Anakena, Easter Island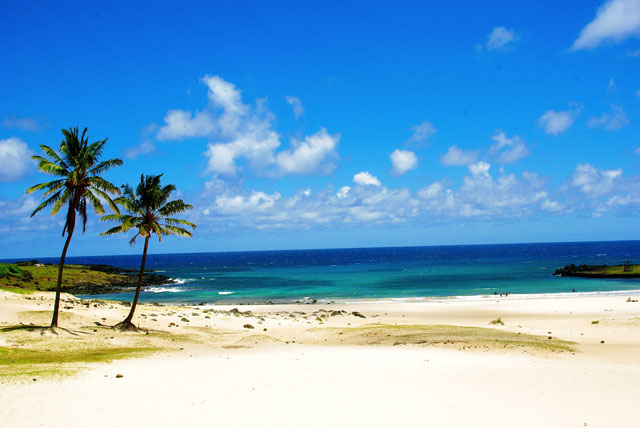 It was quite unexpected that, after flying to the world's most remote airport, we found the most beautiful beach of our entire trip. Walking onto this beach I got goose bumps. The way the palm trees surrounded it and the moai stood tall left my mouth hanging open, and not in an attractive way…but in an "OMG I might be drooling" way. The sand was blinding white and the water sparkeled a deep blue shade. I was in awe that this rocky little island would have such a beautiful beach. Start booking your flight today!
What beaches should we visit in 2013?