Coming back from a year-long trip around the world we get a lot of questions about our favorite and least favorite destinations, best foodie memories and our plans for the future. The one question that has stumped me the most is how have you changed? How have the last 365 days of cultural experiences and being outside of your comfort zone made you a different person?
I struggled because I couldn't answer it. Yes, I had seen and done exciting new things, experienced new cultures and had a different perspective on many of my previous beliefs, but it was too soon for me to reflect on everything that had happened. I was still figuring out our next plans, we are still traveling around the U.S. together I didn't have time to sit and look back on how I am forever changed.
It's been 3 months since we got back from our RTW trip and are currently housesitting in the Sierra Nevada mountains in California. We are in the middle of a valley 1 hour from the closest grocery store, 2 hours from any sizable city. Finally, in the solitude and peace of the mountains I have begun to reflect on how I've changed since leaving Chicago in 2011.
For everyone who asked me the question and was left with a dumbfounded look, here are my answers…for now. 🙂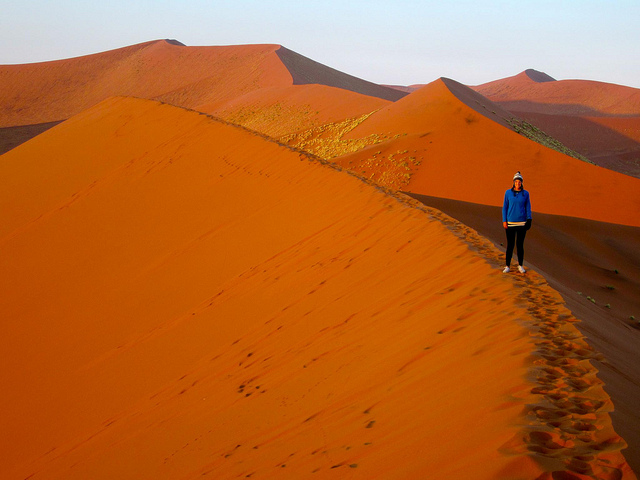 I'm Less Type A
I left Chicago as very much a Type A personality. I talk fast, I'm very ambitious, impatient and I can turn anything into a competition (these aren't my best qualities). I was rigidly organized, proactive and obsessed with time management. This was part of me prior to leaving in 2011, but with the constant off-balance and uncertainty of travel, I have returned with a blurry, completely skewed mix of Type A and B personalities.
Traveling doesn't let you be impatient or you will drive yourself insane. When you are on the bus company's time schedule or adjusting to lifestyles in other countries, you dont have a choice but to chill out and relax. You can't be on your own schedule, the world just won't allow it.
My ambition is still there but it has been redirected. I want to design our lifestyle, instead of working for the highest ranking, the most prestigious title with the biggest bonus. I'm much more tolerant and flexible than I use to be. You quickly realize that every culture has strong customs that drastically differ from your own…and that's OK! Every country we visited Josh and I went in with an open heart and came out with a new understanding and appreciation for their culture – usually the good and the bad.
I'm less worried about money
The best way to become less worried about money is to learn to spend less. We lived on less than $100 a day, with 5 outfits, 2 pairs of shoes and the bare minimum when it comes to luxuries. In the beginning I would be lying if I didn't say I was worried. I couldn't imagine wearing the same shirt for 365 days or not having the right shoe to match the occasion. Now, I know I can cut back. In the name of chasing a passion and continuing the location-independent lifestyle I am willing to live with less in order to live the life I want.
It's not that I am void of wanting new things or have lost my desire to shop. I still love new things and have rather expensive tastes – but my spending priorities have changed. Josh and I have both jumped into an entrepreneurial lifestyle and are working without a steady paycheck or corporate benefits. This would have typically scared me because I'm used to having the best health insurance, my favorite apartment in the middle of the city and a new dress for every occasion.
Now it's different. I have a new understanding of what I actually need and how happy I can be without.
I know that anything is possible
Josh and I have talked about it, and I'm not sure how to put it into words other than I have a newfound belief that anything is possible. Nothing is out of reach and excuses are meaningless. Instead of our first response being "We could never do that," it's now, "What do we need to do to make this happen?"
When Josh and I decided to act on our crazy dream of traveling, it seemed just that, completely crazy. You are probably sitting thinking the same thing – "I could never do something like that, it's too expensive or what about my job or health insurance, it's just not possible."
The more you take risks and push yourself into new situations, you realize your limits are self-imposed.
Josh and I don't limit ourselves anymore. We are now full-time, completely crazy dreamers. We don't say "I could never do something like that" we brainstorm together and figure out how we can make our crazy idea happen. There is a new idea that I don't necessarily have to choose, I just have to figure out how to make what I want work. It's not always the easiest route or safest, but if their is a goal that Josh and I want to make happen you better believe we won't be saying it's not possible – we will be busy figuring out how to make it happen.
How has traveling changed you? Let us know in the comments.