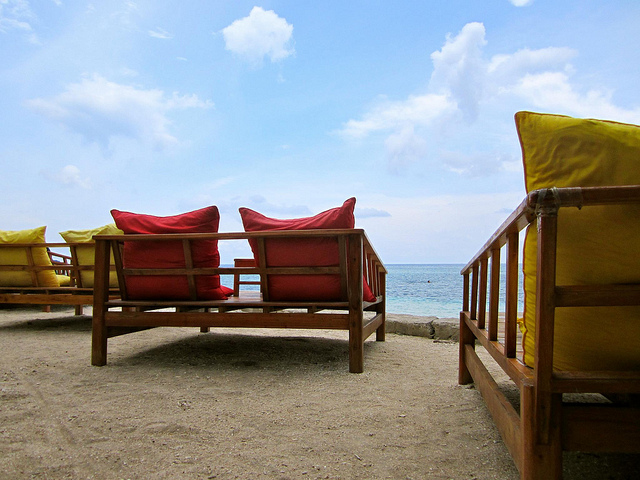 We stayed the maximum amount of time on our Indonesian visa, and there is still so much left for us to explore. We can't wait to return and explore more.
Accommodation: We stayed in a few places during our month in Indonesia, here is our review on each of the guesthouses and bungalows. Each one was unique and memorable for their own reasons.
Dana Guesthouse – Best budget guesthouse
Teka-Teki House – Beautiful, friendly, best veranda
Bali Moon Guesthouse – Most secluded, authentic experience
Oceans 5 – Best community, location and pool
Cost per day: Our original budget was $40/day but we quickly realized it was too low, especially split between two people. It's definitely possible if you stay in the cheapest guesthouses, don't drink, and eat only fried rice and noodles for every meal, and while we did our fair share of all of those we just couldn't stick to it every day. We ended up around $46/day but could have easily spent $60-70. You can read about our budget for Indonesia.
Exchange rate: $1 USD = 9,000 IDR (as of March 2012)
Best Meal: We fell in love with Warung Muslim on Gili Air, which if you read our blog you will likely recognize the name. The nasi campur with extra sambal was our daily go-to for two weeks straight and it is missed. We enjoyed many meals of nasi goreng, mie goreng and some delicious curries, with a pizza thrown in there every once in awhile for good measure.
Bathroom Situation: I used two squat toilets in Bali, neither were at the guesthouses we were staying at. The shower/bathroom combo is popular in Indonesia, where the showers are open air and you might get everything wet and it may seem weird at first, but the heat dries everything off pretty quickly.
Most places require you to place your toilet paper in a trash can, instead of flushing it down. This is important as the sewers can't handle the paper, and most areas don't have large wastewater treatment plants like we do in the U.S. In general, you must be more conscious of what you are throwing away as garbage is a major problem. Many places have no trash pickup and people either burn it or throw it in the river. We participated in a clean-up dive at Oceans 5 to pick up trash off the reef and it ended up being our favorite dive.
Funniest Memory: Our funniest memories probably seem dull to most readers – but to us we still laugh about them. When we were in Ubud, there were two competing ant colonies on the veranda outside our room. We bought some bananas and brought them back, and Caroline opened the bag, only to discover they were covered in ants. We shook them off, figuring some of the ants from outside had somehow gotten to them, but they kept appearing out of thin air. We were finally able to determine that there was a whole colony of ants in the banana stems, and after removing that and throwing it away, we were able to salvage the bananas!
Biggest Issue: Our motorbike flat tire in Bali turned out to be much less of a problem than it could have been, thanks to some very helpful locals!
The sun was hotter than I think Josh and I had ever experienced. Neither of us had ever been below the equator and on our first trip to Bali we quickly learned the wrath of the sun and why the locals all wore long sleeves while riding. We were both burnt pretty bad after that day (and for the next week), but learn that lesson once and early in your trip and ever since then we have been lathering on the sunscreen!
Transportation: We walked as much as we could in Bali, but it was more difficult due to traffic and poor sidewalks (open sewers.) Every local and their brother will constantly offer you a taxi or "transport" and we took a few to get between cities. Our favorite transportation was renting a motorbike and driving ourselves. It's not really practical to get between cities, unless you are renting for long-term but for day trips, it was a hectic and exciting alternative. We took the Ocean Star Express to Gili Air from Padang Bai which included transfers to the port and back.
In Gili Air there are no cars or motorbikes on the island which was a nice contrast from Bali. The only transportation on the island is horse carts or bicycles which we didn't use do to our location and because we could walk around the entire island in about an hour.
Internet: The internet varied at each place we stayed, which you can read about on each individual guesthouse review. Teka-Teki had the fastest and most consistent internet connection of any place we stayed. Besides there, connections were widely available but generally slow and inconsistent.
Places to Visit:
Temples
Walks around Ubud
Ubud Monkey Forest
Gili Air diving
Overall: More to come on our thoughts on Bali, and while we had some great experiences there and met some lovely people, we cut our month down to two weeks and left for Gili Air. Bali had not been what we had expected as it was neither peaceful nor exotic. The touts dominated most locations and the beauty we imagined was hard to find. Bali was overshadowed by our love for Gili Air. Diving was by far the highlight of our month. We are so happy to pick up this skill early on in our trip so we can continue to explore under water around the world. Gili Air is somewhere that I hesitate to share my love of because I don't want to see it turn into Bali. We would return to Gili Air in a heartbeat but likely won't return to Bali.