Our 2012 RTW Trip is over in just a few days.
We've collected a photo from every place we stayed this year. These aren't necessarily the best photos of the year, but they are what we remember most or made a strong impact on us at each place. It isn't necessarily where you are traveling to, but who you meet, what you eat or how engaged in the culture you get. This a brief overview of what made our past year fantastic. The good, the bad, the delicious and the friggen awesome.
WARNING: This is a very long post, with a lot of photos. Plan for a good 15 minute scroll.
Hong Kong
We arrived in January during Chinese New Year and experienced cultural shock at its finest surrounded by every weird food and thousands of locals ringing in the new year.
Singapore
Singapore rocked our world when it came to hospitality. This is a photo of our friend Anish who at the time was living with his sister and her husband in a one bedroom apartment. For two weeks Anish and family offered us a bed and he slept on the couch while we explored Singapore. This is one of the most giving and kind families we have met and we are forever thankful for not only housing us, but for giving us a new outlook on friendship.
Seminyak, Bali, Indonesia
We have no desire to return to Kuta, but we would love to go back to Seminyak to visit Jules and Agung at the Teka-Teki Guesthouse. They invited us to their nephew's birthday party where we got to see a different side of Balinese culture up-close. My 10 year old birthday party did not have 200 people attend or a family band rocking out all night!
Ubud, Bali, Indonesia
While on a motorbike trip around Ubud we met this ridiculous group of Canadian and Irish folk. We didn't love Bali at first sight, but this group made us laugh and helped us leave with fond memories of the island. We will hopefully be seeing them again in 2013 when we make our first trip to Canada!
Gili Air, Indonesia
We've made it clear on the blog and everyone we've met that the Gili's were one of our favorite places this year. It was who we met, where we stayed and of course getting our diving certification that made the 2 weeks memorable.
Thai Islands (Railay, Koh Phi Phi, Koh Lanta)
We expected paradise on the islands, but what we found was over-touristed. We most likely went to the wrong places and would love to visit some more remote islands, but the limestone cliffs and longtail boats in Railay were enough to keep our interest. We promise to be back and give them a second try!
Bangkok, Thailand
We've said it before and will say it again, we could spend the rest of our lives eating on the streets of Bangkok and it would never get old. We love it all.
Chiang Mai, Thailand
We rented a motorbike and did the 6.5 hour round trip ride from Chiang Mai to Pai in a day. We have fabulous memories of the wind in our hair and the rolling mountains around us…and really awful memories of our butts being so bruised that we would have to pull over every hour to give them a break.
Luang Prabang, Laos
We stayed in Luang Prabang for 7 days with Laos New Year as the highlight. You couldn't walk a block down the street without getting completely soaking wet or covered in cornstarch. The energy was high, the music was loud and everyone was dancing until the sun set.
Kouang Xi Waterfall, Laos
Outside of Luang Prabang is the Kouang Xi Waterfall. We decided to rent mountain bikes and ride the 30 km instead of hiring a tuk-tuk driver. We didn't realize the level of difficulty or the amount of steep hills that made us want to cut our legs off at the end of the ride. Totally worth it, but not one of our smarter decisions of the trip!
Vang Vieng, Laos
A town known for its drinking and tubing (now banned) all which we got to experience none of. Prior to arriving in Vang Vieng Josh ate a sandwich at the bus station (yes) that contained mayonnaise. He spent our 2 days here inside the room…puking in Vang Vieng, but no thanks to a fun-filled tubing trip. Apparently 3 other people at our guesthouse had gotten sick from mayonnaise in Laos, so be warned!
Bolaven Plateau, Laos
After leaving Vang Vieng and traveling South we met Brian, a fellow traveler from Chicago. We convinced him to spend 2 days with us driving a motorbike around the Lao countryside on a semi-automatic motorbike which he had never driven before. The scenery and waterfalls were a highlight of our time in Laos and we were glad to have a new friend joining us.
4,000 Islands, Laos
Brian wasn't sick of us yet so he continued down to 4,000 Islands. Every night the sunsets stopped us in our tracks with their variety of colors. Due to our lack of money we ate noodle soup for breakfast, lunch and dinner for 3 days straight since it was all we could afford. This was the first time we were 100% broke due to every ATM within reach being out of service.
Phnom Penh, Cambodia
It's not for everyone, but we think it's a city worth visiting. It's completely chaotic and we managed to stay in the red light district (which didn't help our opinion), but there is something intriguing about the city that makes me want to go back and explore more.
Siem Reap, Cambodia (Angkor Wat)
Once again we found ourselves on bikes, but this time they weren't the fancy mountain bikes, just crappy basket bikes, with sometimes a broken squeaky brake. We spent a very long but satisfying day biking around Angkor Wat and seeing the unbelievable remains of the Khmer Empire.
Saigon, Vietnam
This was our favorite city in Vietnam! We found my favorite childhood food Bahn Bo on the streets of Saigon. It was the first time I had found it anywhere besides Po Sing Kitchen in Mililani, Hawaii. It was just as delicious as I remembered!
Da Lat, Vietnam
A house built by Hang Nga, daughter of the President of Vietnam, back in 1980s. Now called *Crazy House* by the locals, it reminds me of Barcelona and Gaudi's style. We still need to share more photos from this adventure, but it was crazy (hence the name) with eccentric room designs and passageways connecting the different wings of the house.
Nha Trang, Vietnam
We originally planned to skip Nha Trang, but after 4 days of rain in Da Lat we welcomed the bright sunshine. A nice, quick stop on the beach before heading north through Vietnam.
Hoi An, Vietnam
We were stuck here for a week waiting for our visa extension to come through. In the meantime we decided to get handmade clothes! It took 3 times going back and forth with alterations, but eventually Josh got new dress shirts and I came back with a really beautiful maxi dress!
Hue, Vietnam
Among our favorite Vietnamese dishes are the spring rolls. We spent only one night in Hue (due to the visa extension fiasco) and wished we could have stayed longer at the amazing (and cheap) Jade hotel.
Hanoi, Vietnam
Halong bay, a world wonder that has turned touristy and a bit dirty, but still fascinating is what brought us to Hanoi. The dramatic limestone cliffs and mist made for an eerie and beautiful sight. We took an overnight cruise through the bay, kayaked and hiked through caves.
Back in Bangkok, Thailand
Back in Bangkok with the family! We were so happy to return to our favorite country and share the mind-blowing food and fascinating culture with our parents. They did an awesome job of traveling like backpackers, sleeping in hostels and eating on the street.
Back in Chiang Mai, Thailand
After an overnight train and broken-down bus we finally made it back to Chiang Mai. Our favorite day was spent at the Elephant Nature Park feeding and bathing the incredible animals up close.
Johannesburg, South Africa
With Southeast Asia behind us, we ventured out in our first manual car to try to get photos of lions and gargantuan elephants without getting eaten. Camping on top of our car in the middle of winter was an adventure in itself!
African Ranches, Botswana
Our first campsite was an orange and potato farm. We got to pick our own oranges from the orchard and watch how they harvested and bagged the potatoes for sale.
Khama Rhino Santuary, Serowe, Botswana
The second campsite was the perfect practice for the real bush since there were no predators on the land. This is a reserve to protect the endangered rhinos from predators and poachers. It was one of our favorite campsites due to the large picture-perfect tree we got to park under for the night.
Audi Campsite, Maun, Botswana
On our way into the bush we refueled our car and our food, and spent a night at Audi. Driving through Botswana is unlike anywhere we have ever driven. Completely flat, where you can see for miles, yet every hour the scenery will completely change.
Third Bridge Campsite, Moremi Reserve, Botswana
This was our first interaction with African Elephants. From this point forward we drove with an honest fear of them. Within the first 30 minutes of driving in the park we were excited to see an elephant butt sticking out of the trees. The excitement soon turned to high anxiety as we saw 40 elephants cross the path 200 feet in front of us, and they weren't very happy with how close we were to them.
Savuti Campsite, Botswana
We had to use 4 wheel drive (low gear) in our own campsite in order to not get stuck, that is how deep the sand is in Savuti. The scenery here was otherworldly and the drives were always exciting.
Chobe Safari Lodge, Kasane, Botswana
By far the best game drive of the entire month was along the Chobe River front. We saw every animal from leopards to hippos and hundreds of zebra traveling together. Everywhere you looked something was moving. If you are visiting Botswana I would make sure to add this to your trip!
Victoria Falls, Zimbabwe
We took a rather expensive day trip to Victoria Falls. Stupidly, we declined the cheap ponchos, thinking how wet could we get? By the end of the hour walk around the falls, we were soaked. The water was so powerful, we wish we could have gotten in to do some white water rafting!
Ngepi Campsite, Namibia
Out of the Botswana bush and into Namibia, Ngepi was our first campsite and the most unique of our trip. This is a photo of our toilet. You can see that the bathroom had three walls and then one was open to the river. Yes, if you were lucky you got caught by fishermen passing by while you were sitting on the royal potty. We spent the day exploring their bathrooms, each one had its own personality that made us laugh.
Namutoni Campsite, Etosha National Park, Namibia
After driving through Botswana's bush, Etosha seemed like a National Park with training wheels. Instead of driving through 3 feet of sand we were driving on nice, wide gravel roads. The Etosha Salt Pan is a 75 mile long dry lake bed that we drove out on and had so much fun feeling as if we were on the moon. For miles all you see is a white salt bed and blue cloudless sky.
Okaukuejo Campsite, Etosha National Park, Namibia
Near the end of our 2 day stay at Okaukuejo we were stopped by another car with reports of 7 lions about 2 km down the road. We took off in hopes of catching them. They had just returned from a kill since they were seen covered in blood and were cleaning themselves off at a nearby waterhole. We sat for an hour watching them move around and scope out some nearby springbok.
Khorixis Lodge and Campsite, Namibia
You might have already read about the worst tour I have ever been on, but this is where it happened. In case you didn't know the photo is of a petrified tree. A tree that has been buried for millions of years, turned to rock and is just now starting to show itself. Hopefully you find that fascinating…because I didn't. 🙂
Alte Brucke Campsite, Swakopmund, Namibia
We were told by Bushtrackers, our car rental company, to not camp in Swakopmund. Since we didn't book a room ahead of time and the city just happened to be hosting a huge festival the weekend we arrived, all of the hotels were fully booked or quite expensive. Against our better judgment we opted to camp and woke up with everything drenched in dew. We skipped our second night and hit the road for our next destination.
Dead Vlei, Sosslevlei, Namibia
Absolutely a must-see in Namibia, the Sosslevlei dunes and Dead Vlei. The entire day we spent climbing on the sand dunes (which makes for a great workout) and marveling at the blue sky, unique trees and color of the sand. It's unlike anything we've ever seen.
Betesda Campsite, Namibia
After a day of dune climbing, we moved to a slightly cheaper campsite down the road. It turned out to be one of our most relaxing nights with Josh cooking some delicious pork chops over the fire and sitting out watching the sun set over the mountains.
Mesosaurus Camp, Namibia
I'm still not sure where I heard about this campsite, but we drove around looking for it for awhile, not realizing it was a good hour outside of the main city. Once we arrived we named it "Dr. Seuss camp". The quiver trees, rocks and terrain reminded us of something that Dr. Seuss would come up with in one of his books. It was surreal and we had the whole place to ourselves.
Red Sands Campsite, Kuruman, South Africa
Instead of paying the extra cash to drop off the car in an alternate location we decided to do the 2 day drive back to Johannesburg. Red Sands was the midpoint campsite where we spent two days cleaning out our car and getting our bags organized, and contemplating everything we'd just experienced.
Cape Town, South Africa
After a month of camping and questionable showers we spoiled ourselves with a stay in the Westin Cape Town with Josh's SPG points. They upgraded us to one of the Executive suites and took great care of us for the week! Walking down the waterfront and driving around this city makes you realize why it gets ranked as one of the best in the world!
Stellenbosch, South Africa
Sweet, Dry, Fancy, Cheap…way too much wine! We spent one day, driving to 5 of the wine farms in Stellenbosch and we didn't even reach a small percentage of what's available. The vineyards are beautiful and all unique in pairing their wines with chocolate, cheese or meats.
Hermanus, South Africa
We stopped in Hermanus for one purpose, to dive with Great White Sharks! The water was unbelievably freezing but we had great visibility when the 12 foot shark swam right in front of the cage!
Wilderness, South Africa
A small town along South Africa's Garden Route with magnificent views. We spent a few days relaxing at a local guesthouse, eating ostrich and picnicking on the beach.
Plettenberg Bay, South Africa
Our taste buds were completely overstimulated for 2 days in Plettenberg Bay thanks to Laird's Lodge. Every breakfast was a 3 course meal with homemade jams, museli, fresh baked goods and whatever awesome creation the chef came up with for the main course. Dinner was another flavor explosion with 2 – 4 courses by candlelight. We left with happy bellies. Oh yeah…besides eating, we ventured to Tsitsikamma Park too. 🙂
Oudtshoorn, South Africa
This was a rustic campsite/guesthouse that we found last minute in Oudtshoorn. The owner had three dogs, one was the massive mutt pictured below, and the other was a quarter his size. We loved watching them roll around and fight with each other, especially since the small one was usually the instigator! Whenever we ate, we always had a friend who wanted to share with us.
Barcelona, Spain
Barcelona is an amazing city, I had heard others rave about it but I was glad to experience it myself. Beyond the fabulous menu del dia's and Gaudi architecture, Castellers of Barecelona blew my mind. We attended one of their practices and were amazed at the strength, patience and balance that each member had.
Madrid, Spain
My family joined us in Madrid for their first international trip ever! You can imagine how excited I was to see them with their own passport, eating paella and walking the streets of Spain with me. We walked everywhere, saw everything and ate even more! Our 2 weeks in Spain left me craving another trip through Europe!
Rio de Janeiro, Brazil
Red and yellow umbrellas became my new obsession. Just looking at this photo sends a shiver down my spine remembering the incredible beaches of Rio. I will be back, I suggest you go and experience them for yourself. The hype is real…the city is really that awesome!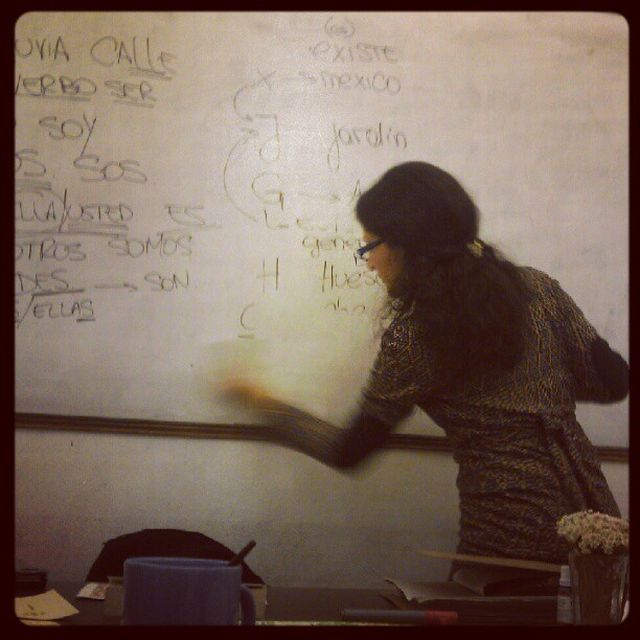 Buenos Aires, Argentina
We spent 2 weeks taking 20 hours of Spanish lessons with Vamos Spanish in Buenos Aires. More than anything it helped having someone speaking to us for 4 hours a day in Spanish so we could practice our listening skills. Now, at the end of our 5 months in South America we have an OK base but still so much more to learn!
Santiago, Chile
We took an 8 hour hike into the Andes with EcoChile. Knowing that we went on one trail of thousands and thousands made me realize how enormous the Andes mountain range is. One day of hiking wasn't enough!
Viña del Mar, Chile
We ventured outside of the main city and stayed in a small beach town north of Viña del Mar in Reñaca Beach taking 5 days here to recoup. We walked along the beach and enjoyed waking up to the sounds of the waves in the morning.
Cuenca, Ecuador
I wanted to like Cuenca more than we did. I think we just went at the wrong time when nothing was open. We had to walk all over the city to find an open restaurant for lunch or dinner. The vibe in the city while we were there was off, but the architecture I loved!
Baños, Ecuador
A city in the mountains that offers almost any adventure sport you desire. We could have moved into our guesthouse and stayed for months. We biked through the mountains to see the waterfalls, hiked around the city and loved the local eats.
Montañita, Ecuador
It rained 6 out of the 7 days we were in Montañita which is never fun when you are staying in a beach town. During the few hours of sunshine, we got out with one of the locals we met on the beach and (sort of) learned to surf. We will be practicing more in Hawaii in January!
Guayaquil, Ecuador
The Igauana Park in Guayaquil is…interesting? It is tough to see a ton of Iguanas in a park with water bowls around for them to drink from and then head to the Galapagos and see them in their natural habitat.
Galapagos Islands, Ecuador
We slept, hiked and swam with sea lions for a week with Ecoventura on a 7 day cruise. By far the highlight of visiting the Galapagos is how close you can get to the animals (without touching them!). I would recommend anyone, all ages, all types of travelers to visit the Galapagos Islands. I loved every minute of this trip and am so so happy we added this to our RTW trip!
Quito, Ecuador
Just a short stop in Quito between Galapagos and the Amazon gave us a chance to do some laundry. We went to pick it up the day before our flight and they were closed, one of my worst fears this whole year! (We got it…eventually)
Iquitos, Peru (Amazon Jungle)
We caught piranhas, cooked our fish over the fire and trekked through the Amazon Jungle for 8 hours a day. I thought I was a lot tougher than I am, the jungle broke me! We slept outside with just a screen separating us from nature and fell asleep to the birds, frogs and insects, overall it was an incredible trip!
Cusco, Peru
We had an eventful end to our trip with big destinations right in a row, Cusco was our last adventure! We signed up for the Salkantay Trek through the glaciers that ended in Machu Picchu! We hiked and camped for 5 days, climbed to an altitude of 15,000 feet and did it all completely unprepared!
Easter Island
We spent 3 days on one of the most remote islands in the world exploring the mysterious moai. This still seems like a dream that we got here! The sunrises and sunsets on the island are some of the best we've seen.
Cancun, Mexico
Finally, we perfected the art of doing nothing. Sitting, enjoying the blue waters and clearing our mind of any stress that might be hanging around before heading home for the holidays.
There it is, one year of travel in photos! If you'd have told me just 18 months ago that this is how I'd spend 2012, I wouldn't have believed you. It's been an incredible trip!
What's on your travel list for 2013?